Changes in this Release
•Fix - Direct Mail - after editing the Letter - error dataset not in edit mode appeared
•Donor Recognition
Donor Recognition
BasicFunder can assist you in Recognizing donors who have given significant contributions to your agency. BasicFunder can sum all the donations and slot the donor into a Recognition Level.
In the Agency setup a new tab, "Recognition", can be use to setup giving dollar thresholds and recognition description titles.
In the Donation Data Entry you can have a check box appear by turning on the option:
Show Option on Donation Entry - "Do Not Include Donation in Donor Recognition" - with this turned on - you can disqualify certain donations from the donor recognition calculation.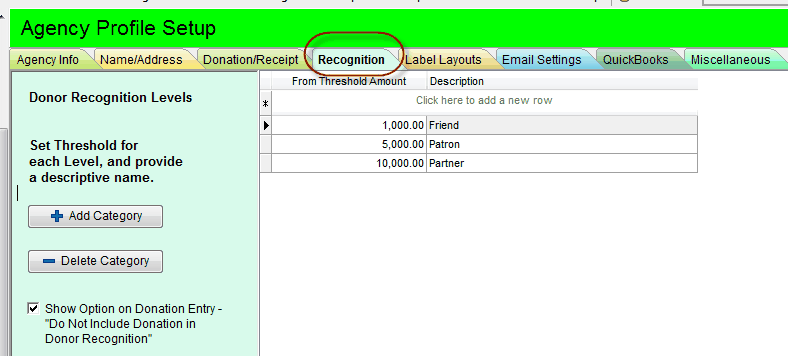 Donation Data Entry
Here is where the check box will appear when the option has been enabled.

Assign Donor Recognition
This function is found under the Administration Menu. You select the cut off date and whether In-Kind donations are to be included in the calculation. Click the Assign Recognition and the system will total donations and assign donors to their respective Recognition Level. A new tab on the Donor Profile will show this information.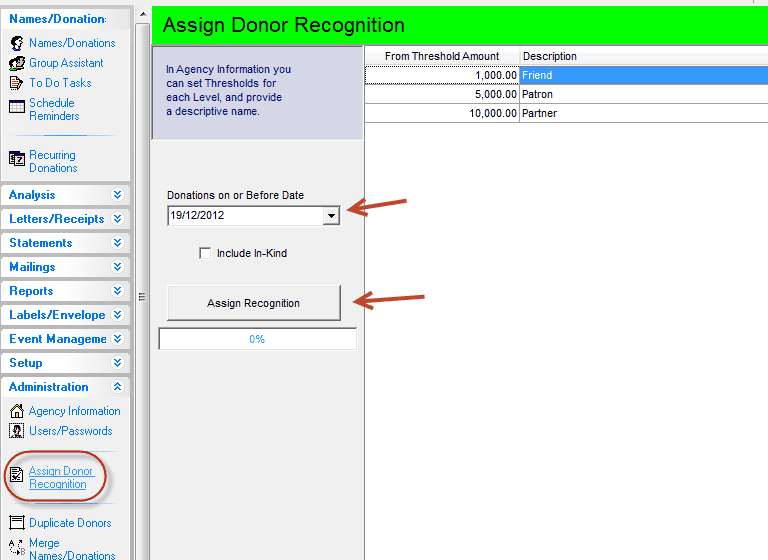 Donor Profile
The Donor Profile has a new Recognition Tab which displays the assigned Recognition Level.
If a donor does not want there philanthropy known, a Do Not Publish check box can be set to remind you of the donors request not to be made know.
If past donation are not in BasicFunder but you know a donor belongs in a specific Recognition Level, you can check the box "Manually Assign Recognition" and then you will be able to select a Level and enter the date this person achieved the level.
Some organizations have public plaques, the Line 1 and Line 2 boxes allow you to record that information here.

Reports
There are three reports on the Report -> Donor Recognition Menu

Calculated Recognition
With this report you select a date for recognition. All of a donors donations (you can exclude In-Kind) which are permitted in the calculation on or before this selected date are totaled. If the total matches any of the recognition levels the donor will appear on the report in the appropriate level section.
Calculated Recognition Change
With this report you select two dates. The recognition calculation is done twice for each donor - once for each date. If the donor is recognized in different levels for each date, then they will appear on this report. this repor allows you to see over a period of time, which donors have moved up levels.
Assigned Donor Recognition
This will list the Recognition information from the donor Profile.